Many years ago, the purpose of shipping containers are only for sea transportation and storage. When many containers are old, many people think about the way to recycle and reuse all of them, a lot of ideas were born. Therefore, many used shipping containers are build houses nowadays. However, there are many disquiets when you are going to build a container homes or what happening when you are living in a shipping container home, something as followings:
• Scope of container homes
• What will I feel when living in this house – hot or cold in every season?
• The house from container are noisy or not?
• Will container homes look like?
• Why people using shipping containers for homes?
• New trend.
Following shows will be a snapshot of how life can be when living in a house from container, and why the house from recycled container is a good choice.
THE SCOPE OF CONTAINER HOME BASED ON YOUR BUDGET
The fantastic thing about building with shipping containers is they go together like a Lego set. They are very uniform in shape and size and are really big rectangular blocks of steel. Much of the construction is already done before any conversion even takes place, and containers are built super tough.
Someone tell me that: "the container has an identified dimension, and it seems to be not so big to make a large and high house". Don't worry about that, due to they have the uniform in shape and is the really big rectangular blocks of steel, these are advantages when we build a house that we can arrange many containers as your idea. It seems to so flexible size as your desires based on your budget. The container house just be one 20 feet container, one 40 feet container after finishing works (painting, electrical, interior design, etc) if this is suit for them or we can build a house with 3 or up lever if we like. Depend on you.
When you own two 40 feet containers, it is very well to build a nice house for small family, young couple and two children as example. Also remember that, we can combine with regular materials to made together with containers to have a larger house.
Container home 20 feet
If you purchase two 40 foot containers, you can actually construct a fairly decent sized home. And remember, not all of the home's construction has to be made up of shipping containers. You can add in some regular construction as well to expand the footprint of your home.
Therefore, the point of view that a house constructed by container is small and narrow is a common misconception. In fact, we can make a big and comfortable house from secondhand container or new containers.
HOW THE TEMPERATURE WILL BE IN INDOOR CONTAINER HOME?
Just like with any other kind of home people build, a house made primarily from shipping containers can be insulated to regulate the internal temperature.
In fact, when you see the shipping containers which are metal block, you think the house that build by these material will hot in the summer and freezing cold in the winter. If you used to stay in a container, that would be true, however container homes are more complicated than a normal container. Like other house from other material, container house can be insulated to regulate the indoor temperature.
Internal wall finished by some material as wood and cement board together with insulation foam/ fiberglass insulation are solution for adjust temperature in our container homes. Besides that, combined with other modern equipment (air conditioner and heating), we will be warm in winter and cool in summer.
ARE SHIPPING CONTAINER HOMES NOISY?
Internal house is noisy or not based on materials for making floors, walls and ceilings and all furniture on this house. This is the reason, walls and ceiling are often built by cement board, wood as well as floors by timber, tiles, stones, vinyl, etc,. These coverings on all home face are like a regular house. Moreover, we also use curtains or blinds and have windows as well as doorways. All the things are like regular house
WILL A CONTAINER HOME LOOK LIKE?
Many people suppose that a container home will be ugly. However, this is a common misconception. You can print some words on Google Search, there are lots of great house from inside to outside that built by new/ secondhand shipping containers. Many house, you can't imagine that it was made by containers.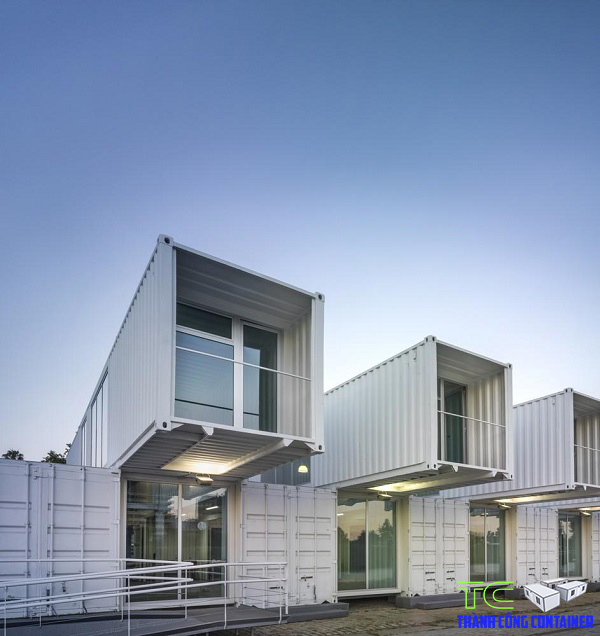 THE REASON PEOPLE BUILT HOMES BY SHIPPING CONTAINERS?
Because shipping containers for home almost are recycling material and easy to move, they are extremely versatile and very cost-effective. Using shipping containers saves massive amounts of budget on construction costs, and because much of the frame and structure is already in place, construction schedule is shaved a lot as well.
If we are using second-hand shipping containers for constructing house, we also help save the planet by stopping these containers from eventually ending up as useless landfill.
The frame and wall of container are extremely strong and robust and they are also very easy to modify in whatever way you need them to be. They are suitable for house.
NEW TREND
Nowadays, more and more people become aware of the possibilities of container homes, they become more popular.
Dream of most people in the world to own their own home, and one of way to be cost-effective and flexible are built by shipping containers that are comfortable and luxurious as any other home out there.
To learn more it's best to have a contact with a container company who design and construct container homes.
SEE MORE: Container Office